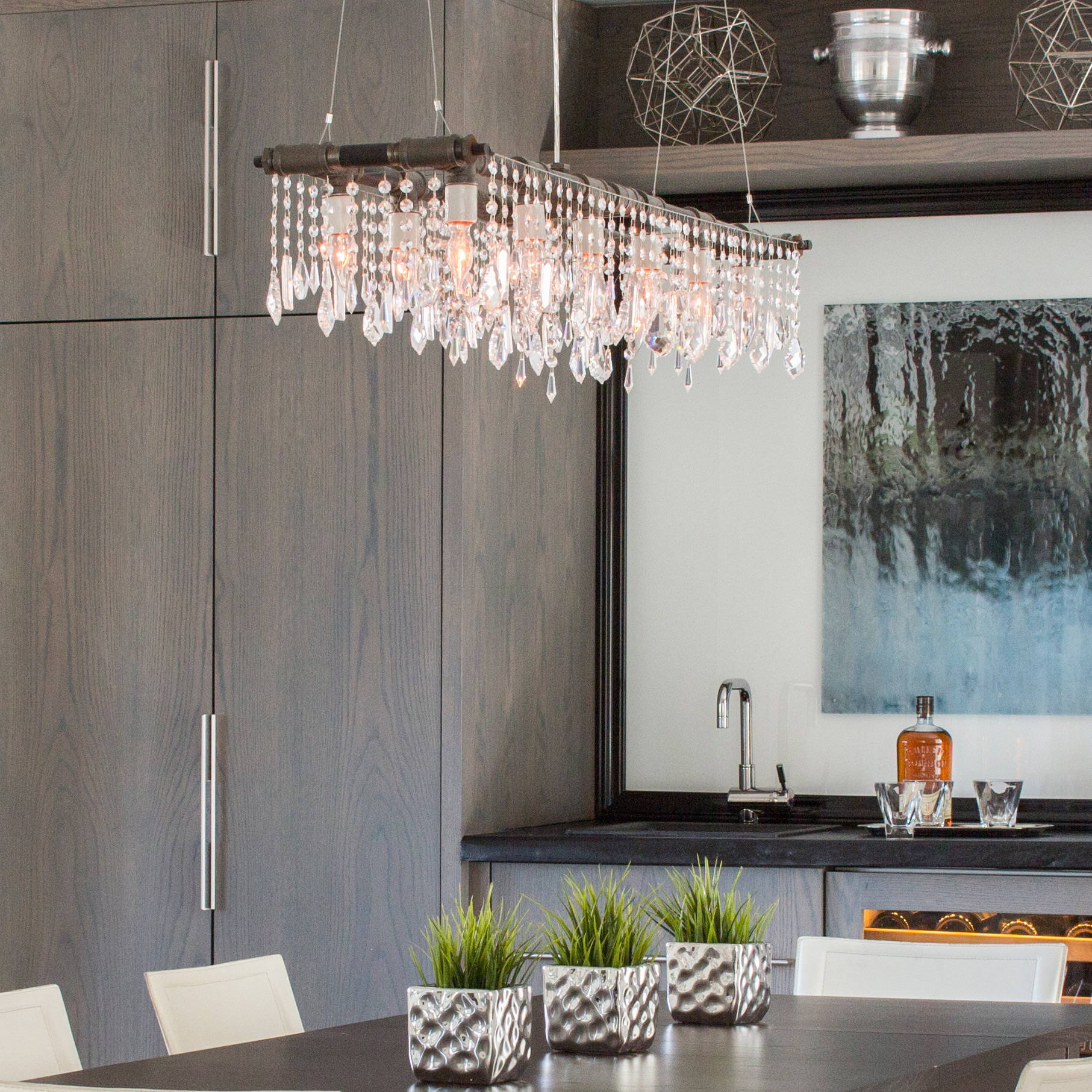 MODERN INDUSTRIAL CHANDELIERS FOR OVER YOUR DINING ROOM TABLE
There is a formality inherent to any dining room. It is the designated location for your family and loved ones to communically break bread, away from the distractions of other parts of the home.
The lighting for that table should be reverential to that purpose It should illuminate the table while showing your loved ones in the best possible light. In addition, we think that over-table lighting should be interesting and complex. We have a wide variety of linear suspensions and chandeliers that do exactly that.
Good crystal is worth it -- get yourself educated on levels of crystal quality buy reading our article on this topic here. Michael McHale Designs uses only high-quality, optically-pure gem-cut crystal which are guaranteed to be heirloom-worthy.
INDUSTRIAL STEEL PIPES & FITTINGS
We transform ordinary pipes and fittings into extraordinarily memorable chandeliers and linear suspensions. We get the balance between masculine and feminine, rough and smooth exactly right. This is lighting for sophisticated tastes.
SHOP LIGHTING FOR OVER DINING ROOM TABLES

WHAT TO LOOK FOR IN DINING ROOM TABLE LIGHTING

We have thought a lot about the space over your dining room table and what should be there. Firstly, you want your fixture to provide enough light to for everyone to look their best. Avoid any fixture with a single or just a few sources of light -- it creates too many shadows and will almost always be too bright to provide any beauty. Aim to fill up half of the airspace over your table with light. For example, if a table is 84" long, look for a fixture around 42". It doesn't need to be exactly half, but if the light fixture or the airspace taken up by multiple pendants is less than a third the size of the table, it will look odd. You can fill up the requisite airspace with a single linear fixture, or with a series of three to five pendants. Remember that multiple pendants will need each have their own source of electricity, so if you have one junction box over your dining room table, you may need to call the electrician.
For years, Michael McHale was a pretty creative guy stuck in a fairly uncreative profession. He was an entertainment lawyer specializing in international television formats. But after years of drafting format licenses for shows like Who Wants to be a Millionaire? and The Weakest Link, he realized that his creative itch wasn't being scratched. All that changed in 2007.