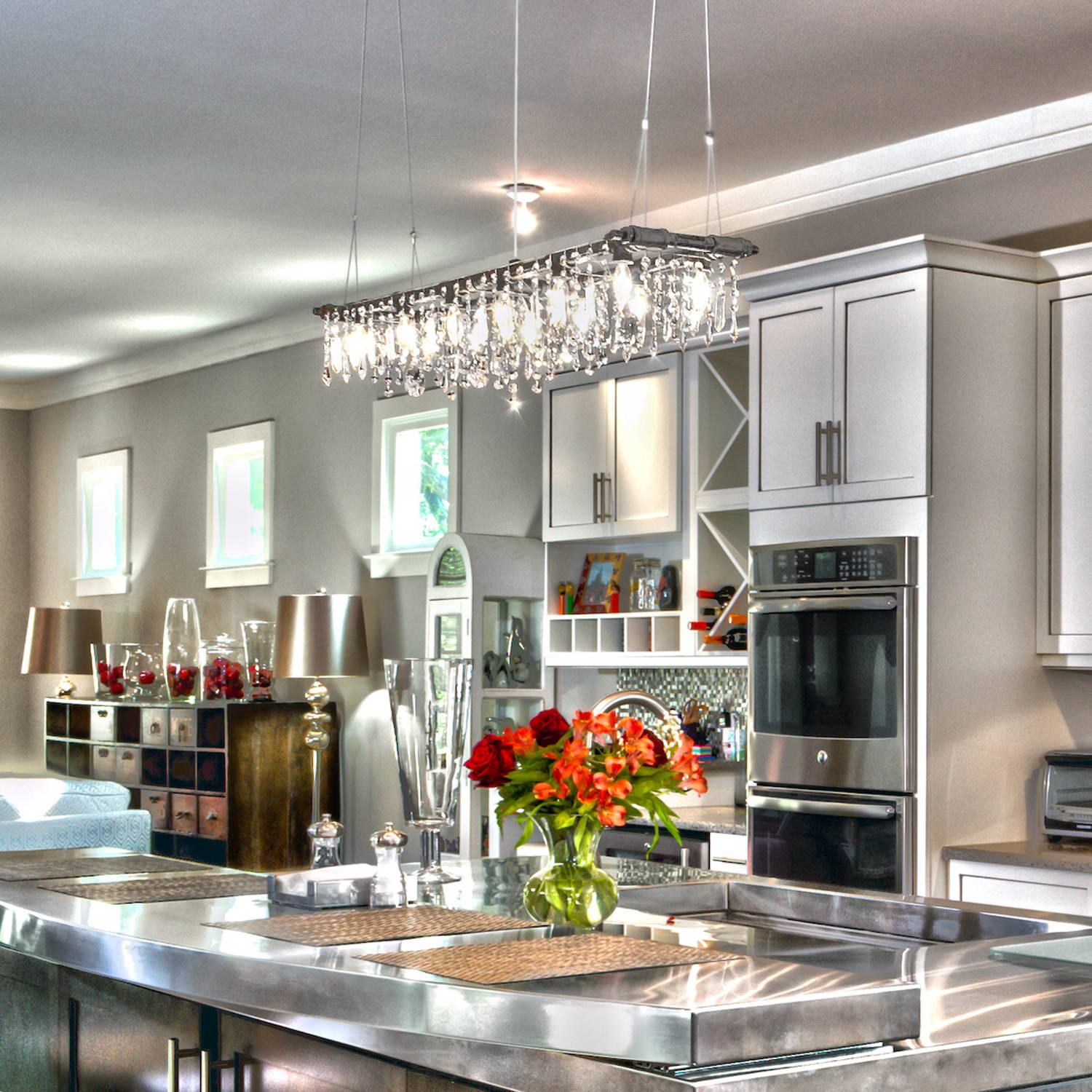 UNIQUE ARTISTIC LIGHTING FOR OVER YOUR KITCHEN ISLAND
You have come across this page probably because you are keen on avoiding using the same lighting that everyone seems to use over their kitchen island. You are here because you are looking for something unique. Something artistic, yet something that will do the job of illuminating your stuff.
Our lighting has an avant-garde feeling to it while still being practical. You can either go with a series of pendants or with a linear chandelier. For crystal, go for something in our Tribeca Collection or our Industrial Collection. Having a proper crystal linear chandelier in a bright kitchen, with all its movement and refraction and reflection, is really something special. If you don't like crystal, try something from our Raw Collection.
Good crystal is worth it -- get yourself educated on levels of crystal quality buy reading our article on this topic here. Michael McHale Designs uses only high-quality, optically-pure gem-cut crystal which are guaranteed to be heirloom-worthy.
INDUSTRIAL STEEL PIPES & FITTINGS
We transform ordinary pipes and fittings into extraordinarily memorable chandeliers and linear suspensions. We get the balance between masculine and feminine, rough and smooth exactly right. This is lighting for sophisticated tastes.
SHOP LIGHTING FOR OVER KITCHEN ISLANDS

For years, Michael McHale was a pretty creative guy stuck in a fairly uncreative profession. He was an entertainment lawyer specializing in international television formats. But after years of drafting format licenses for shows like Who Wants to be a Millionaire? and The Weakest Link, he realized that his creative itch wasn't being scratched. All that changed in 2007.