Acclaimed Industrial-Chic Lighting
from New York City
Innovative, Artistic Chandeliers,
Pendants, Sconces, Lamps, and Linear Suspensions.

Handmade in the USA since 2007
AS SEEN IN:
DESIGN SPONGE | THE NEW YORK TIMES | COOL HUNTING | THE WALL STREET JOURNAL | DWELL
APARTMENT THERAPY | NEW YORK MAGAZINE | UNTAPPED CITIES | WESTCHESTER HOME
For over a decade, Michael McHale Designs has been rethinking what's possible in decorative lighting.
MMD makes chandeliers and pendants out of industrial plumbing and gas pipes, then drenches those masculine structures in high-quality crystal for a mix of rough and smooth, masculine and feminine that is not only just right, but also immensely satisfying. Our upgrade collections feature pure Swarovski crystal and can be fully customized for material, length, and color.
We also make modular lighting, and lighting for your smart home. It's all innovative, unique, and memorable.
Industrial Crystal Fixtures

Our starter Tribeca Collection features black steel fittings and superior quality crystal.
Our step-up, made-to-order Industrial Swarovski Collection fixtures are a little bigger and fancier, featuring custom sizing and color options and all feature genuine 100% Swarovski crystals.
Crystal not your thing? The RAW Collection of black steel pipe fixtures gives your space a spare, stripped down masculine look. Turn any room into a stylish man cave.
Matrix Modular Linear Suspensions

The Matrix Modern Linear Suspension is great looking modern fixture which can change with the times. One fixture can transform into a number of profoundly different looks.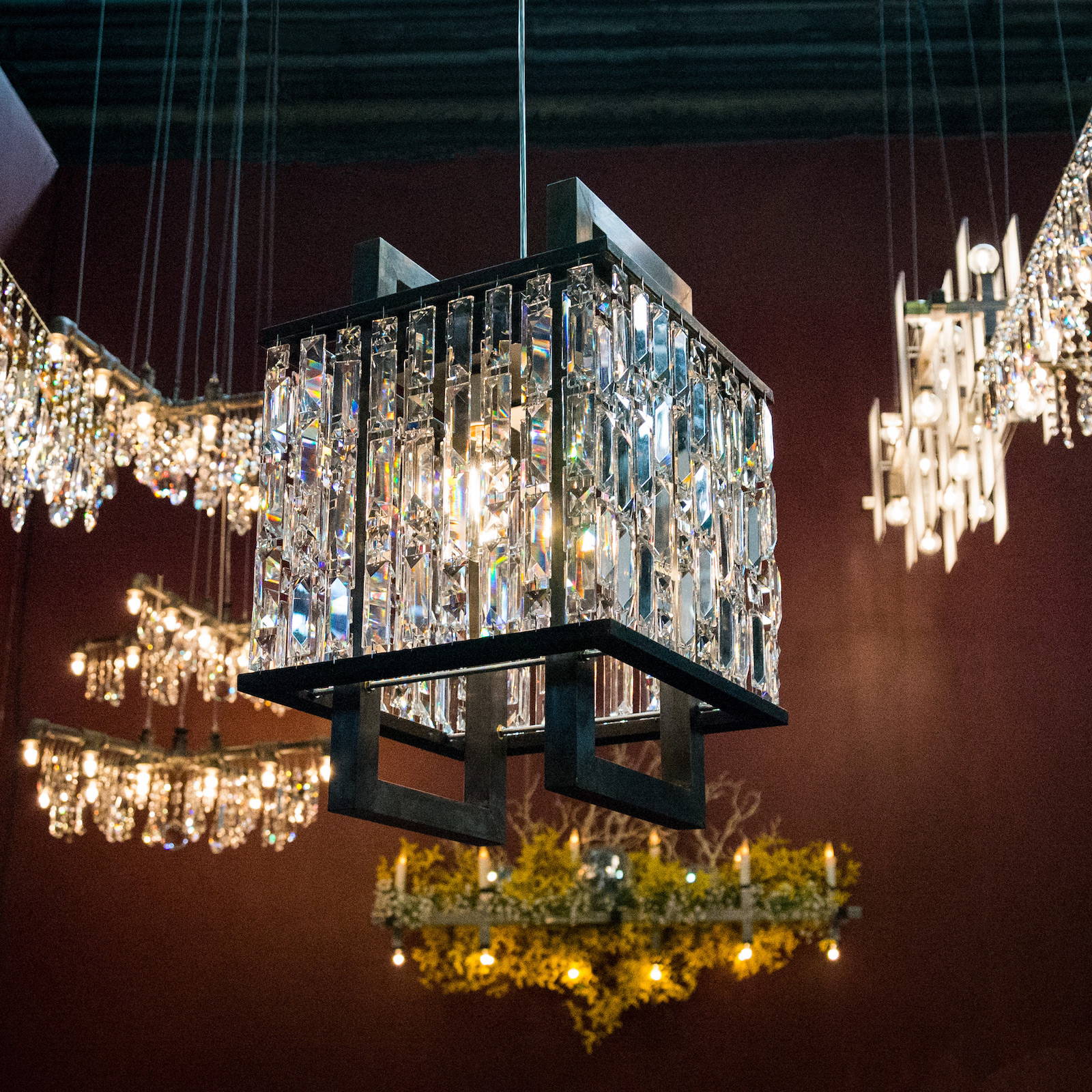 Yes - We go there. Crystal chandeliers for your patio, porch, or portico. A McHale Outdoor Chandelier in front of your business provides a local landmark that people will remember. People are drawn toward sparkle and light. It's primordial.