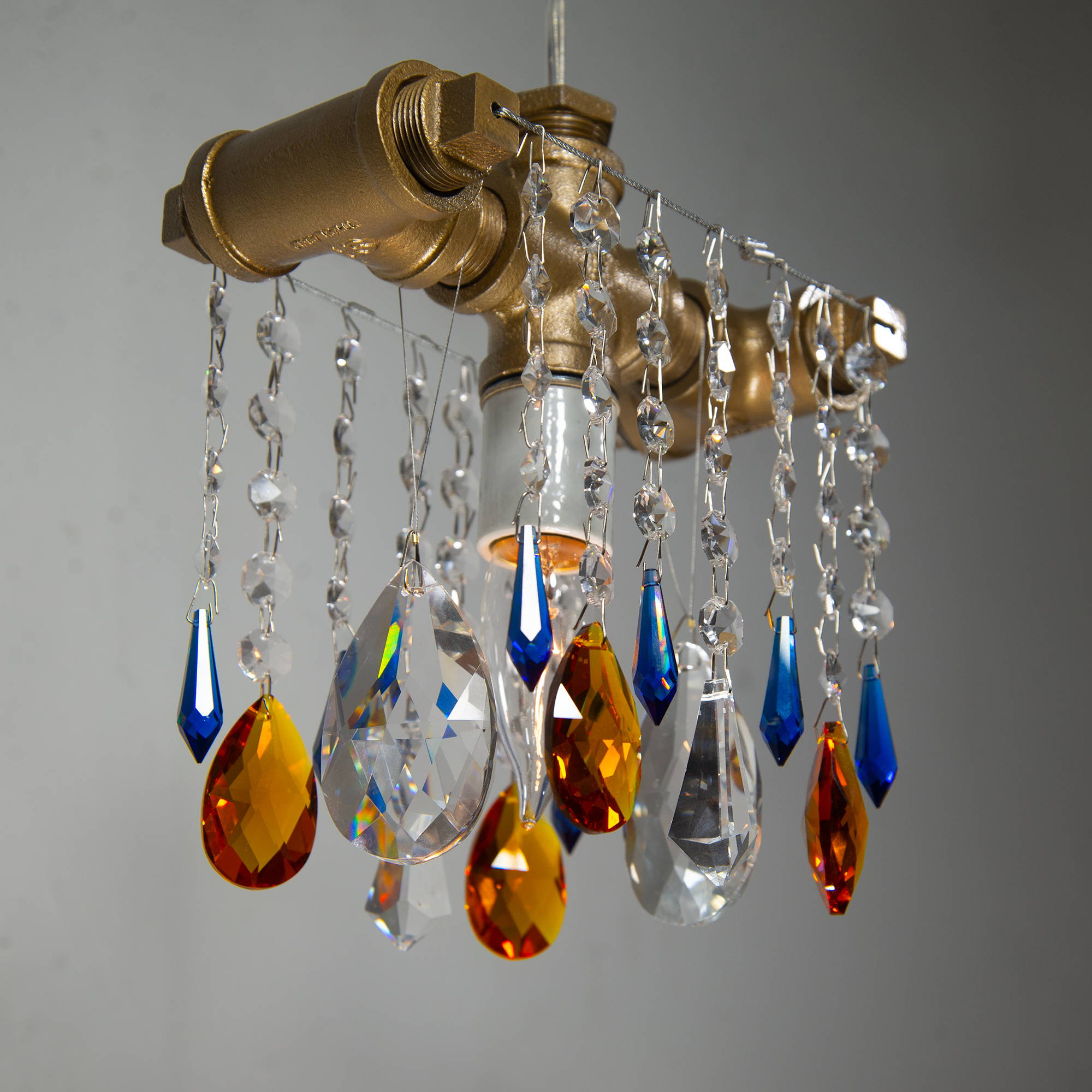 CHANDELIERS WITH COLORED ACCENT CRYSTALS
Most crystal chandeliers sold worldwide are made with all-clear crystal, and it's not hard to see why. Clear crystal is guaranteed to go with whatever color scheme your interior space has, or may have in the future. Really good quality crystal, like the kinds we use at Michael McHale Designs, also pick up and reflect many of the colors of the room.
But colored crystal in the right dose certainly has its place. Look at how it makes this Industrial Single Bulb Pendant pop. We generally like using two contrasting colors (like the sapphire blue and topaz pictured here). We only use Swarovski Strass colored crystal, which is terms of vibrance and clarity, has no peer. We sweat the quality of our crystal and for colored crystal would never use anything else.
Good crystal is worth it -- get yourself educated on levels of crystal quality buy reading our article on this topic here. Michael McHale Designs uses only high-quality, optically-pure gem-cut crystal which are guaranteed to be heirloom-worthy.
INDUSTRIAL STEEL PIPES & FITTINGS
We transform ordinary pipes and fittings into extraordinarily memorable chandeliers and linear suspensions. We get the balance between masculine and feminine, rough and smooth exactly right. This is lighting for sophisticated tastes.
GREAT USES OF COLOR IN CHANDELIERS

Any MMD chandelier can be made with colored accent crystals as a special order.
Just contact us at info@michaelmchaledesigns.com and let us know which fixture you want and in what color scheme.

For years, Michael McHale was a pretty creative guy stuck in a fairly uncreative profession. He was an entertainment lawyer specializing in international television formats. But after years of drafting format licenses for shows like Who Wants to be a Millionaire? and The Weakest Link, he realized that his creative itch wasn't being scratched. All that changed in 2007.